Tweet
I really really do.
That said, I should let you know, if you don't know already, that I am a huge snob. Not about everything, but with Dashiell's baby goods I've been particularly picky. It started with wanting nothing but the best for our new baby and also wanting nothing that is going to ugly-up my home. Honestly, I would do anything for this boy, but the thought of having to buy everything in primary colors for the next 5 years is simply not acceptable. Yes, Dashiell already owns lots of brightly colored toys (and clothes, but I'll save that for another post) because I know color is engaging for an infant. Great. Bright colors- check. But considering he's just 6 months old, how much more do we need? How quickly will the mass-produced toys and plastic crap take over our home? Too quickly, I fear.
This is my basic thought on this: we've chosen to bring Dash into our home to share our lives. We did not choose to hand our home over to Fisher Price and the everloving red yellow and blue, just because someone decided that's exactly what every baby on the planet needs to have in order to be an honest and good citizen of the world. So when we started looking for a high chair, I realized it was an excellent example of how we could deviate from the brainwashing. Something that he'll sit in and cover with food doesn't need to be multi-colored, Disney- or Dora-themed, or just plain ugly. It should be something that you want to look at for the next year or so, and something that you can afford.
So, back to my love for Stokke. Those good people have gone and created a high chair that, among other things, will support Dashiell's 350lb. bottom, should things ever head in that direction. If I know my genetics like I know my genetics, we probably won't get around to testing this aspect of the chair, and that's quite all right with me. The Tripp Trapp has lots of features we can appreciate right now with Dash being a trim 15lbs. And the most attractive feature? Its' looks. It fits right in with our furniture and isn't plastic and ugly! It's a baby-gear revolution!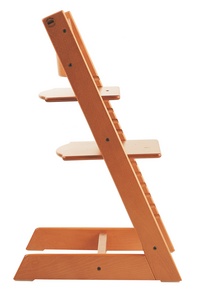 Stokke Tripp Trapp
5-point safety harness
Seat and footrest adjust vertically and horizontally
Handcrafted from solid European beechwood
Engineered for stability; ergonomically designed
Adjusts for continuous use from 6 months to adulthood (holds adults up to 350 lbs.)[SEE?! What did I tell ya?]
Baby Rail (sold separately) provides greater security for children from 6 to 24 months
Adjusts easily with wrench (included)
Armless design allows a child to get in and out safely
Seven-year warranty on all wooden components
18″W x 19″D x 31″H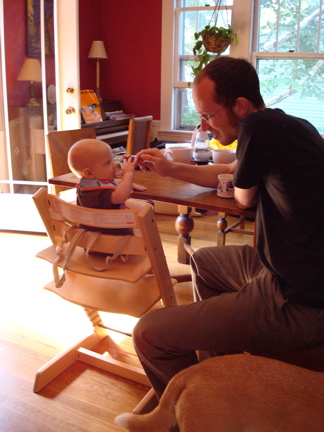 So we've had this assembled for a whole 4 days now and I'm so happy with it! We were feeding him on the table in the Bumbo, but he kind of slouches down in it, so once he got the whole sitting up thing it just wasn't working for him anymore. The Tripp Trapp lets him sit right at the table with us which he loves. Note in the picture: We're using the baby rail in place of the harness for the time being and it works like a charm. I wouldn't leave him alone in it, but I feel safe about it with us right there.
There is no food tray so you have to be ok with a messy table. Honestly, I think it's much easier to just wipe the applesauce off the table than to detach a tray, take it to the kitchen, and load it in the dishwasher or handwash it. Couldn't be easier.
And as to the price point, at about $200, considering he will never outgrow it, it's worth every penny.
I imagine I'll update this review when we remove the baby rail and start adjusting the seat for the growing boy, but for now, this seat is getting a 10 out of 10 from me.
Stokke? Will you marry me?
I may be snobbish, but I'm awfully cute.
UPDATE: After having used the Tripp Trapp for a good six months now I figured it was time for a review update.
We are still using the baby rail and not using the harness. I love that he has been able to use this chair right at the table with us, and the rail allowed him some freedom to move around but still be contained. Without the rail, we'd have never seen that Dash loves to stand while eating, and also to dance a bit. He does his I Love Food dance at every meal, something he wouldn't have been able to do with a traditional highchair. It's adorable, and on the developmental side, it's really helped him learn balance. (He began walk at 10 months and was immediately comfortable on his feet. We didn't tell him he'd been practicing all that time while he was eating.)
On the down side, switching from the baby rail to the harness is going to be difficult. Recently, he's begun to climb out of the Tripp Trapp and onto the table. Pretty cute to see in action, but ultimately not a good habit to form. With that, we took off the rail and strapped him in. It makes sense that he totally rebelled and refused to be held down, what with it being the total opposite of how he's been eating all this time. Stokke says that the rail is good up through 24 months, so I think we'll keep using it for the time being. Either he'll start a new habit (sitting while eating? ground breaking!) by then or we'll just have to suck it up and deal with the potential tantrum.
One more quick note: portability. I don't think it was designed with this in mind, but once we realized how much we preferred this highchair over others, we began to take it with us to restaurants and friend's houses. Pretty easy to do, though we definitely got some funny looks in the restaurants.
That was a while ago now, and we've sort of come to terms with those dirty little community highchairs they have at restaurants. Ok, that's kind of a lie. I cringe when I realize we have to use one and I really wish Stokke would come out with a portable version of this.
Overall? Still loving this product. Would definitely recommend. Will update again when we have to make the next size/harness adjustment.
Tweet