Tweet
I think I'll welcome the new week by sharing one of my vintage finds with you. This beautiful tin recipe box is one of my current favorites: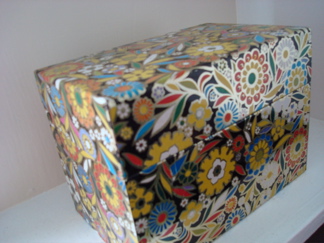 Found in an amazing, seemingly never-ending thrifty antiques mall in Mitchell, South Dakota (right down the street from the Corn Palace!) in the summer of 2004. I fell in love with it right away and it's housed my favorite recipes ever since. The index card dividers that you see below came with it and also the recipe for Bicentennial Cake that was clipped from a newspaper and taped to its cover. I haven't made it yet. Truth be told, it sounds kind of horrible, what with all that food coloring. Regardless, it will forever live taped to the lid of the box.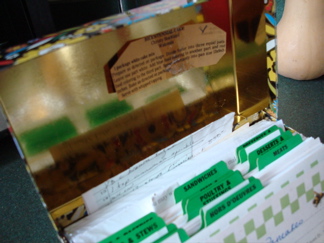 Here's the recipe, complete with original typo. Makes it more authentic, no?
Bicentennial Cake
1 package white cake mix
Prepare as directed on package. Divide batter into three equal pats. Leave one part white. Add blue food coloring to another part and red food coloring to the third part. Spoon alternately into pan size 13x9x2 inches. Bake as directed on package. Serve with whipped topping.
Happy Bicentennial!
Tweet