Tweet
We pullled it off! We hosted our first ever house concert last night, though you wouldn't know it today—aside from having all our furniture in new and exciting places, and what with the exhaustion we're all feeling. As in, can't drag butt off the couch, can barely reheat leftover Indian food for lunch, kind of exhaustion.
Our friends Peter and Sally are on a national tour promoting Sally's album and we managed to convince them to play that hot Portland nightspot known as "Tonya and Neil's Living Room." Amazingly, they were happy to do it, which meant, shit, we have a ton of work to do! Invites went out, a menu was planned, and when they pulled in town on Wednesday with their dog, Sampson, we were ready to go.
I let Neil rearrange my (my!) living room and dining room to accommodate his vision for the show, and though I disagreed then, I'm willing to admit publically that he was right. His vision involved a lot of furniture moving but it ended up creating the ultimate salon setting for the show. A setting that will not show well in my photos below. Somewhat because we had a small house filled with people and therefore could not move into the proper photo-taking positions, but mostly because I'm a bad photographer. There, I said it.
So the scene was set, food and drink was put out (including some generous donations by Maple's Organics and Zarra's Monumental Coffee House—Thank You!), and the house filled with people. Friends, I'm so impressed! Thank you for coming and making for one truly lovely evening of music and laughter. Also impressive? I think your combined donations to the band amounted to more than some of their gigs have paid. For real. You are very generous and I (and they) thank you!
Here are some rather bad pictures from the evening. Some funky setting on my camera takes these fuzzy shots which I kind of like and mostly don't.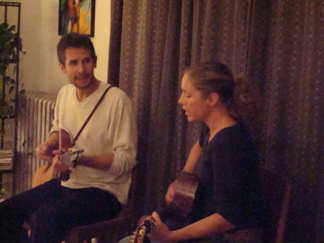 Sally and Peter play on our poorly lit stage.
The sound was incredible which had a whole lot to do with their amazing talent and a just a teeny bit to do with the acoustics in our house. I'm thinking about hiring them on as our house band. Actually, I'm thinking of hiring them to be our kitchen help, too. Aside from their musical abilities, they cook and clean like dream houseguests. Love that!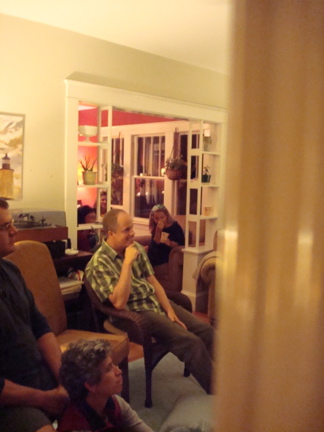 One side of the living room and a glimpse of the dining room. I swear it was more crowded than this makes it look.
And just one more photo from last night, which I like to call, "Sweet Potatoes Is Good."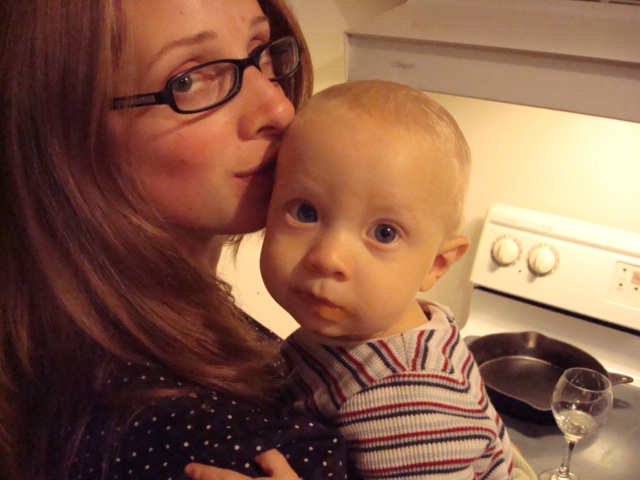 Tweet