Tweet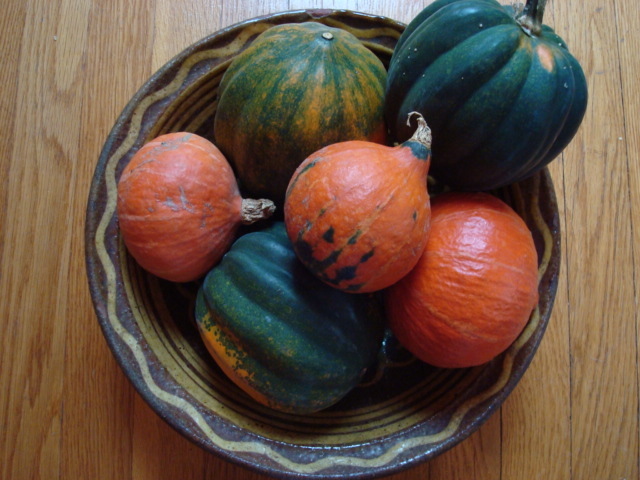 Just one more week of our CSA veggies to go but I already have a pantry full of tomatoes, parsnips, carrots, beets, onion, garlic, and squash. It's hard to keep up, I tell ya. We share a share, and still the sheer amount of veggies is a bit overwelming, especially with a baby on hand. He doesn't seem to care that I'm charged with feeding the family in addition to playing with him. Pounds of tomatoes to deal with? Hello, I want to play peek-a-boo again.
Maybe it's that I'm a sucker for peek-a-boo, but I've let a few weeks of veggies pile up and am feeling the pressure to use it or lose it. That's right. I'm gettin' all tough on the veggies now. I'm bad.
So the plan? This weekend I'll be making a double batch of chicken soup (carrots, onions, parsnips) to freeze for colder days, and then salsa (tomatoes, onions, garlic) to be canned and put in the basement, and then ultimately I might just blanch and freeze whatever is leftover that we won't be able to eat in time. That's right, parsnips. I'm talking to you. And of course, whatever can be pureed for Dash will be pureed for Dash. I wonder if he'll be sick of squash by December.
While we're talking about food, let's talk dinner. It's only 11:36 and I've already planned what we're having. You have to, you know. If I don't, we end up with take out and that's not always budget friendly. It's tasty, but not budget friendly.
Tonight's dinner will come from the October edition of Everyday Food. I made this a couple of weeks ago and we both loved it so why not make it again? Tonya "pick a recipe and run it into the ground" Sattin strikes again. But seriously, this is delicious and I recommend you try it. Here is the recipe with our edits:
Moroccan Chicken Stew with Sweet Potatoes
1/4 cup all-purpose organic flour
4-6 organic boneless, skinless chicken thighs
coarse salt and ground pepper
2 T organic olive oil
1 medium organic onion, diced
1 piece, 2 inches, fresh ginger, peeled
1 cinnamon stick
1 carton or more organic chicken broth [or homemade if you have it]
2 medium sweet potatoes or yams peeled and cut into 1-inch pieces
[or substitute with a can of chick peas or half s. potatoes/half chick peas]
2 T fresh lemon juice
1 cup organic couscous [or organic brown rice]
Place flour in a shallow bowl. Season chicken with s & p; dredge in flour, shaking off excess. In a heavy pot or dutch oven, heat oil over medium-high. Add chicken, and cook until browned, 4 to 6 minutes per side; transfer to a plate.
If using rice in place of couscous, make it now.
Add onion, ginger, and cinnamon to pot. Cook, stirring occasionally, until onion starts to soften, 2 to 3 minutes. Return chicken to pot. Add broth and sweet potatoes (or chick peas). Bring to a boil; reduce heat, and simmer until chicken is cooked through and sweet potatoes are tender, 10 to 15 minutes. Discard ginger and cinnamon, stir in lemon juice, and season stew with salt and pepper.
While stew is simmering, prepare couscous. Serve stew over couscous and enjoy, preferably on a cool, windy, even rainy, day.
Yum!
Tweet