Tweet
And with it comes the chilly mornings, limited hours of sunshine, and cool evenings. How can there be a frost warning and still my tomatoes haven't even turned red? Some have, of course, and we've been enjoying those daily, as one must do when one harvests a dozen a day. But still, the green prevails.
Time to make sauce, put the pesto in the freezer, and cut all the perennials down. Um, yeah, I'll get to that… tomorrow? After I make the granola: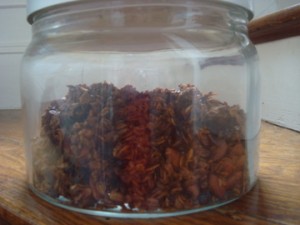 (Ha! Just checked Amanda's site and she's talking about the same thing except with a whole lot more get-up-and-go and better photos. Such is the life.)
This weekend will find us all over the darned state; chasing fame in Buckfield: Neil is a featured guest of the Early Evening Show at the Oddfellow Theatre on both Friday and Saturday. He'll be singing his songs and tellings stories, come on out and have a listen if you're around.
And he plays Sunday at the Common Ground Fair. It's our fall tradition to go there anyway, we just happen to have this extra fun opportunity to add to it. He'll be on the Children's stage at 3pm.
Have a wonderful weekend everyone! And what are you all doing on this fine early-Fall weekend?
Tweet