Tweet
You all have made my day. Thank you so much for your kind emails and phone calls checking up on us and our health. How unexpected and truly delightful.
I'm happy to say that we're all doing wonderfully. I'm my usual healthy, though roughly 40 pounds heavier than normal self. Neil is a bit headachey and reeking of celery due to a new smoothie infatuation, but quite well otherwise. And I'm really really happy to say that Dash never caught a wiff of the nasty virus and continues to be his charming blond self.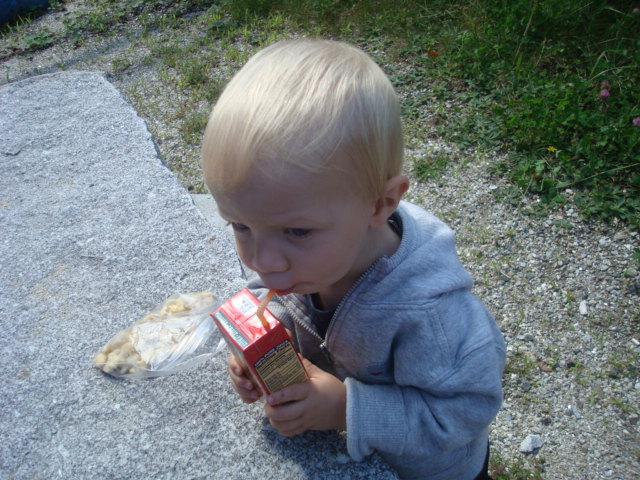 Couldn't be better, thanks for asking.
And now it's Friday, or as we say around here, "TGIF BABY!" (started as a joke meant to get me through tough days at the office and now it's a phrase we couldn't make it through the week without).
Stayed up late (for me) last night watching the debate with friends. I was somewhat saddened that she didn't make an ass out of herself like I wanted her to. Oh well, I think she still showed which of the two would make a better second in command (or first if it ever came down to it) and, coincidentally, it wasn't her. (aside: i don't know what i will do if i hear "maverick" out of their mouths one more time, but it won't be pretty. i'm hoping they keep using it, though, so as to sabotage themselves.)
An interesting link (thanks Tracey) for anyone wanting to read about white privilege as it relates to the election.
So as I was saying before… it's the weekend! Can I get a Woo Hoo!? Can I?
I'm really hoping to hit this church rummage sale tomorrow morning (completely skipping pilates!). Keep your fingers crossed that I have some fun goodies to share with you for Monday.
Friends coming by on Sunday for some homemade pizza and some baby bonding (hopefully). Think there's time for apple picking or maybe a walk on the beach? I do.
What are you all doing this weekend?
Tweet