Tweet
This is what it's come to.
A simple inquiry by Neil's grandmother about what I spent my birthday money on set me to thinking, "I'm pretty sure I just deposited that in the old checking account as any responsible young parent might do. But here she is reminding me that I should have something nice. I'm pretty sure she's right. I'm nice. I deserve something nice. That money should not buy two jumbo packs of diapers or a metric ton of GoGo Squeeze.
Cut to a few days later where I've all but convinced myself I deserve some very nice things, and right away. Kids are in bed (score!), freelance project is waiting (i'll get to you, just give me a minute to myself!), and I find myself on Etsy. I had seen a blog post somewhere about someone who upgraded from a jewelry box for her many many necklaces, to some delightful wall hooks, thereby putting said jewelry on display which is a) pretty, and b) a reminder to put on some jewelry you pretty thing!
It wasn't much of a leap to, "Hey, maybe if I had hooks, I'd wear my four necklaces sometime too." (I might have more than four, but not many more. I strive to have more. Listening Neil?)
So I find these simple vintage wall hooks and this eye-catching red number: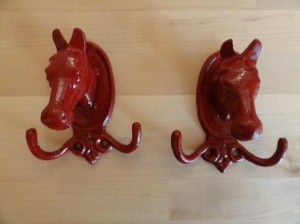 And it's giving me something to think about. I haven't put anything in the shopping bag yet because the search results for "wall hooks" in the Vintage category keeps coming up with these beautiful vintage hand-hooked rugs.
That's right, the Other hookers.
And I can't help myself, but I think I've found my new obsession.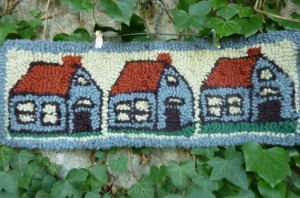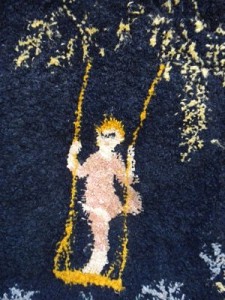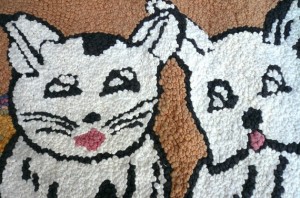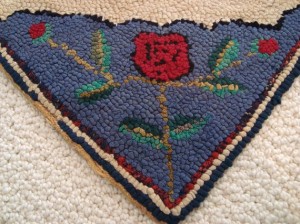 Love love love these little gems. I want to own them pronto. But my question is this: do these vintage pieces fit in with modern decor? Where do they go? Wall? Floor? Bedroom? Bathroom?
Where would you put them? And which one should I buy with my birthday money first? I'm eager to support the hookers.
Tweet