Tweet
For all of you faithful readers (those of you who comment and those who are, I'm guessing, really really shy), Happy Almost February! I'll bet you didn't know that was a holiday, did you? Well, to celebrate that we're almost through with winter (ha!), I've decided to do a giveaway.
One lucky reader will receive this super-cute vintage milk glass snack set.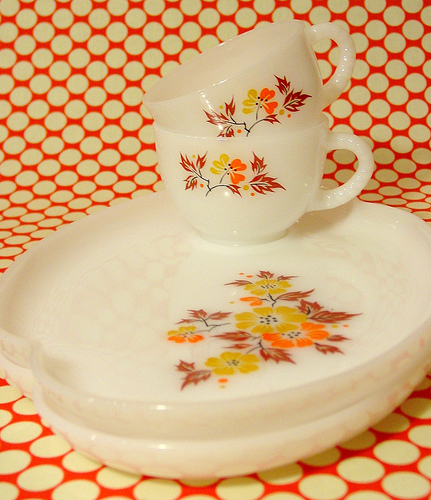 Here's what you have to do:
Go to my Etsy shop and find your favorite item.
Leave a comment below telling me what your favorite is and why. Inquiring minds want to know!
Not mandatory, but if you want TWO chances to win, put a post up on your blog telling people about this giveaway and link back to this post. Pretty easy to do, and it'll double your chances of winning!
Your comment automatically enters you in the giveaway. Winner will be announced on Sunday, February 3, so make sure you get your comments in by Saturday night.
Please remember to include your name and email address so I can get in touch with you.
That's it! That's all you have to do! Except maybe to check out all the other Bloggy Giveaways that are happening right now. That ought to keep you out of trouble for the rest of the work day.
Good luck!
p.s. hop on over to neilsattin.com to win a free copy of Dan Zane's Catch That Train!
Tweet