Tweet
Sending you all happy thoughts and big bellies on this very fall-like Monday. Well, just this one big belly: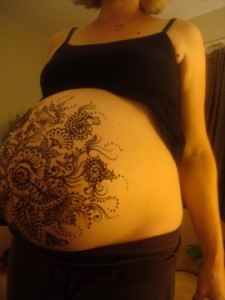 Our friend Mary came over last night to create this amazing design with henna on my very large canvas of a belly. It's something I've been wanting to do to celebrate this pregnancy and the impending arrival of our little girl. I told her I wanted something on the big side and free-flowing, other than that, she was on her own. Pretty amazing, isn't it?
Most of the henna has crumbled off by now, leaving a light orange stain on my skin. Last night it looked like chocolate, though smelled nothing like chocolate. Good thing too, as I would have eaten it right off my own belly. Classy.
Big shop update today if you care to stop by. Also, on the subject of fun thrifted goods, I have some things to share with you. Things that I've found lately for myself that I have questions about. I just know you're the right people to ask. Tomorrow. I'll show and tell tomorrow.
Until then…
Tweet