Tweet
You may not have noticed, but for the past few days I've actually been working.
Like, for money. I've been full-time mommying for exactly nine months (happy birthday, dashy!) and have finally figured out how to juggle that along with some freelance. I know, I'm really really slow to catch on. One thing I totally figured out, though? Mommying doesn't pay well.
So work on my desk means that I really need to not be blogging right now. I need to get to work on this book (which incidentally, is quite interesting. i typically work with fiction, but this one is all about how to raise a better family, go against the mainstream, be a better person, etc.).
I'll leave you with this, which I am currently coveting: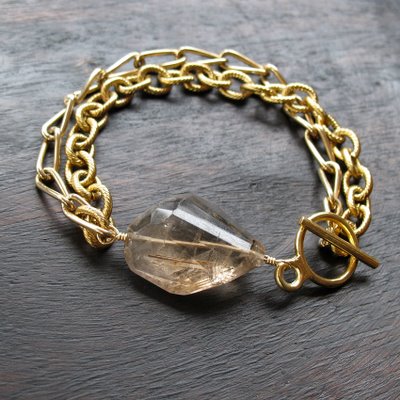 My friend Cassie made this and it's been getting some good press (Here and Here). The Golden Opulence bracelet is a limited edition run featuring vintage brass chains and a single nugget of Copper Rutile. Each bracelet will be unique since no two Rutile gems are ever the same. Get yours now, but leave one for me ok?
Tweet